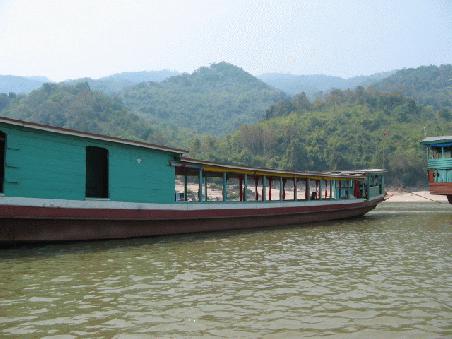 we are traveling again...
what a great few days! cruising away from pai (it was hard to yank ourselves out of there, we had lunch with chino and rata and hugged them both several times before we left, and nuk gave me a seed/bead necklace from burma, put it around my neck and said when i miss her i can wear the necklace and think of her...brought me to tears!) we rode to chiang mai with tim, the new zealand man who owns our cottage, and learned all about his life and his traveling days all over the world. on monday we drove in a minivan through northern thailand and the chiang rai province, past red dirt towns and a huge golden buddha on top of a temple, green rice fields, and humongous rock formations rising out of the green earth....we spoke too soon to tim the day before, saying we hadn't seen rain yet in thailand...of course it rained that day, but it was refreshing and everything looked greener and more alive. we stayed in chiang khong, the thai town on the mekong river, and met a great guy from quebec named aziz. we accompanied him in the morning to the border, to get our thai exit stamps and to go in a little boat across the river to laos. everything was a little slower there, being in lines and clusters of people, getting the forms we needed to fill out, handing in our passports, handing them $35 US dollars for our visa (it was fun to get the US dollars from the currency exchange place, we haven't seen them in so long, crisp ten dollar bills, smells just like US money, distinctive)...we were guided along by a man to the longboat, where they kept letting people get on, i think we had 130 or so! we got a seat by the front which was actually better than the little wooden benches, as we had a little room to stretch out. there were the two cutest little laos girls on the boat, looking at us with big eyes and holding onto their moms. we stopped at different villages along the way to pick up/drop off lao people, and at one all these little kids came on saying "pringle chips oleos (oreos)" with big baskets full of junk food and beerlao to sell. pringles seem to be popular.
the boat ride was stunning, down the brown water sand bar surrounded mekong river, through remote unknown, high green hills and cliffs, rocky shores, bamboo fishing poles bending over the water, bamboo in the valleys, little kids playing naked by the shore, little boys doing synchronized backflips in the sand for our applause, photo-shots, and smiles. we stayed in pak beng last night and had the most amazing indian food cooked by a man from bangledesh...naan, dal, parantha, rice with GHEE (yum!), aloo palak, aloo gobi....i know, eating indian food our first night in laos... :) it was great though, such a sweet man. we also met a lao man outside his restaurant who was so kind to us, we went back this morning for breakfast and he told us about his life and watched him play with his two year old son. everyone we met has been so nice, and the kids are so beautiful. we took the boat for another 8 hours today, through rain and a rainbow upon our near arrival, and cliffs and green green green and the brown muddy river. gorgeous. luang prabang is great. we found a buffet vegetarian street food stand with several dishes, all you can pile on a plate, and they heat it up for you, for .50! laos used to be occupied by the french, and the impact on the food here means there is lots of amazing bread and baked goods to enjoy, including a little loaf of the best banana bread we've ever had :) streets are lined with night market goods, beautiful pillow and duvet covers hand stitched, fisherman pants in rich prints and colors, old tusks and horns, bottles of snake wine with snakes preserved inside, silver jewelry, hand made slippers with spirals and elephants, carved wooden pieces, original buddha art painted in gold....beautiful beautiful. we met some people on our boat and are going to travel to a waterfall tomorrow and also walk up to the wat (temple) up on the hill that overlooks everything. i can already tell that our time here won't be long enough. it's amazing how much you can explore in a place....you could travel all around the world in a year, or you can stay in one country and immerse immerse immerse. even though it was hard to leave our little pai haven, i'm so glad that we did. it feels great to be 'on the road again,' as willie would say.
khap jai lai lai everyone!